Television has become part lifestyle and went into the house billions of people around the world, especially apartment in which the present situation comedy that's hard to ignore. We are collecting top apartment floor plansfrom famous tv show for you who love the character. apartment design from Spanish Basque Country, allowing viewers a closer look of everyday life insight into real. Inaki Aliste has managed to give incredible detail through tiny curiosity in his spare time.
Floor plan and visualization will help in creating an apartment, but Aliste change with different functions by emphasizing viewers to reminisce. The apartment is not only functional, they inspire and influence many viewers with a simple concept yet warm interior in it. In this post we invite you to reminisce with apartment plans might see one is your favorite tv shows.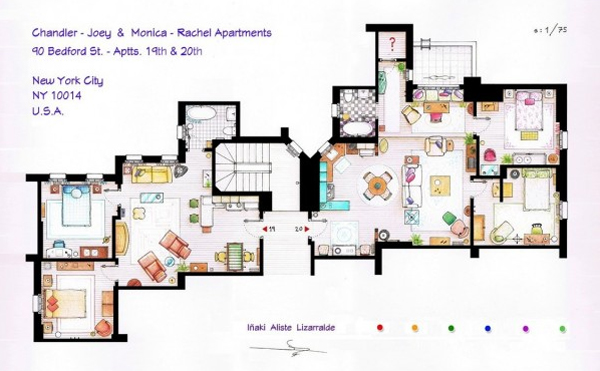 Friends Apartment
Big Bang Theory Apartment
How I met Your Mother Apartment
Two And A Half Men House
Frasier Apartment
Will And Grace Apartment
Sex And The City Apartment
Seinfield Apartment
Dexter Apartment
The Gilmore Girls House
The Golden Girls House
Breakfast at Tiffany's Apartment
Bonus : Two Cartoon Movies!
The Simpsons House
Pixar's Up Movie House
source : home-designing