We who live in urban areas often think that it will be difficult to get outdoor sanctuary from the crowd and density of work. When in fact if we can get a little creative then we can utilize wasted space should be a special place with a view of the city in the area where you live. I am talking about how to turn your rooftop or apartment into an outdoor living area, so to inspire your roof transformation I will try to give you everything you need to turn your roof area into something modern, stylish yet comfortable as a outdoor sanctuary.
Rooftop deck design ideas capable of providing a superb view with the right settings, and could be your favorite place to relax. As for those of you who like to party, the modern rooftop bar design not only creates incredible panoramas, but as the best place to gather your friends in a relaxed and bold atmosphere under the beautiful night sky. You could add some outdoor furniture for dinner with lots of other wood features, though nothing as comfortable as a large sofa with a fireplace. Lounge bar concept is one style that you can use for decorating modern rooftop.
There are many ways to decorate and remodel your rooftop. Even so, you should not forget the space available to you to decide whether you want a small rooftop decoration with some plants and flowers or large rooftop with a dining table and sofa were magnificent. If your residence has a rooftop terrace, you will be better off, getting a strong fence and some vertical plants is highly recommended. Here are 25 modern rooftop designs that will give you a wider view and create an outdoor area of your dreams, get inspired!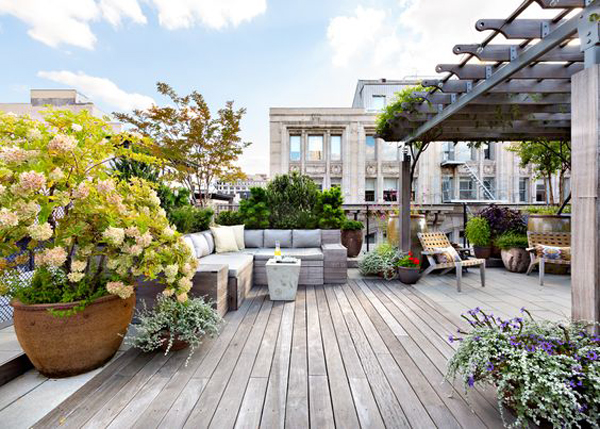 source: pinterest