Want a quiet and very comfortable vacation? Roemah Pulomanuk should be on your list besides Bali if you visit Indonesia. If you are a fan of traditional Javanese decoration styles, this beautiful villa will make you want to come here.
After so many things this year, now is the time to get up and the first thing I think of is taking a little vacation to refresh my mind. Roemah Pulomanuk not just a Joglo-style house with its ethnic decor, this villa combines modern and chic design in the interior. Looks warm in some corners of the house, and is very soothing which seems to remind me of a childhood that may have been forgotten. To be honest, for some people the Joglo house design feels a bit creepy, but if you are a fan of Javanese art and culture then this house is a special place to make memories with your family. Surrounded by rubber plantations, rice fields and the beach, this private family villa located in Pulomanuk Village, Bayah, Banten, Indonesia will give you a dream of a pleasant holiday.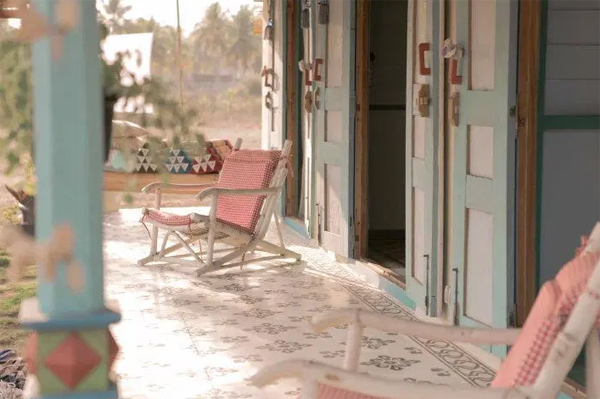 Not just impressed traditional. Modern vibration can also be seen from the color selection of furniture that is adorable. This is a favorite terrace where you can relax and spend a beautiful afternoon.
The bedroom is comfortable with beds made from teak wood. The installation of a mosquito net makes this bedroom a shabby chic style and although it is not too big, this room feels very comfortable.
Functional sofa bed, this area can be a family room or turn into an additional bedroom when you need it.
This kitchen design really reminds me of childhood. If you have lived in Java, you will also think the same. Wooden walls and ventilation colorful glass makes it feel ethnic.
Even though this villa is in a traditional style, you can soak in the modern bathtub comfortably.
Joglo usually has several sections cozy patios and terraces this is one of them. Rattan chairs, benches and many wooden elements are characteristic of Joglo houses.
There is an outdoor dining area where you can have a small party here.
Finally, enjoy your holiday night with an outdoor cinema with an amazing natural background.
more information: roemahpulomanuk