I know many of us do not like winter, so that you look forward to spring with a fresh, flowers, sunshine and warmth. That's why I want to try to inspire you to wreaths for your front door. Give your favorite wreath a time to go out and pick one of the 10 awesome ideas instead.
Sewing Kit Basket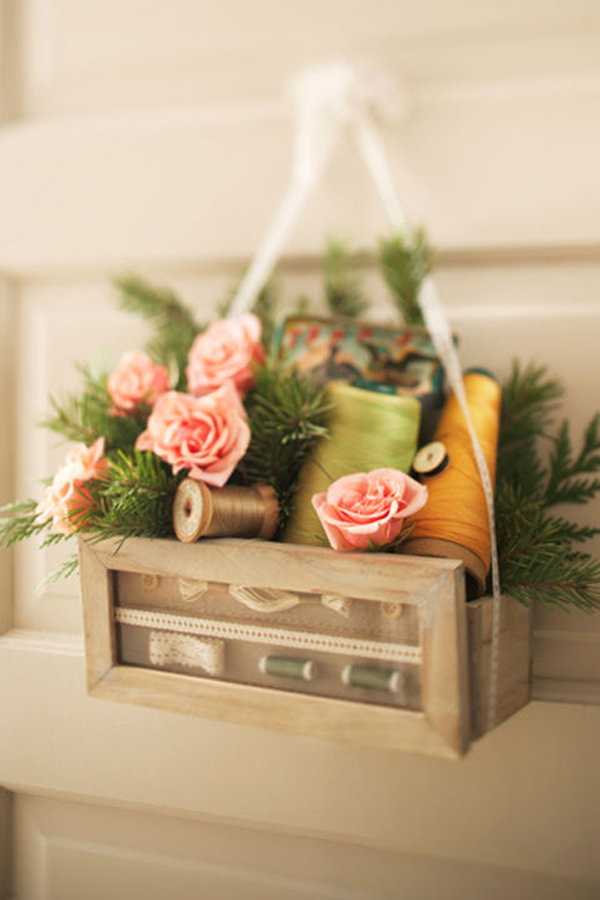 Fill a see-through basket with flowers and sewing supplies for an elegant and creative door hanging.
Antique Camera
Want to show off your love of antiques? Hang a vintage camera from your front door and fill with flowers and other greenery. Add small cuts of ribbon for extra charm.
Luscious Lavender
Is there anything prettier than a big bouquet of lavender? Visitors and passerby will be instantly taken with your home as they walk by this beautiful display.
Country Chic
Fill a galvanized bucket with faux or fresh pink and white tulips for a classic, country-cottage look.
Metal Basket And Chalkboard
Fill a metal basket with flowers, then attach a small chalkboard to write out a welcome message to visitors.
Floral Monogram
Use chicken wire, floral foam, and silk flowers to create this simply gorgeous monogram display.
Watering Can
Transform an antique watering can into a rustic, garden-themed piece of art.
Umbrella Wreath
Fill an umbrella with your favorite blooms, then hang from a nail on your door for the prettiest (and easiest!) springtime display.
Rainboots
Install a metal grommet on the back of each rain boot. Loop a piece of burlap ribbon through grommets. Place a 3-inch-wide cylindrical vase in both boot heels; stabilize with tissue paper if needed. Fill vase with water and seasonal blooms. (We used a mix of hydrangeas and daisies.) Tie ends of ribbon together and hang on a nail.
Wooden Tags
These Thanksgiving-inspired wooden tags can be personalized with any greeting. Try "Welcome Home" or "Come On In" if you'd prefer to hang them on your door throughout the year.
source: countryliving