Merry Christmas and Happy New Year, at the end of this year we would like to share happiness to you and provide fresh ideas for christmas bedroom design. Christmas decorations it must always be on own with cheerfulness, 26 inspiring christmas bedroom will represent your feelings and poured it into christmas room ideas. Christmas atmosphere there should be in every room including bedrooms, it's about how to design a bedroom that is in accordance with the spirit of Christmas and keep you cozy when waking from sleep.
Christmas is the most cozy holiday, and the bedroom is the place where you will end up happy. Apart from that, this room should also be full of Christmas spirit from the moment you wake up. There are so many convenient ways to choose from! From timeless traditional bedrooms, neutral toned bedrooms, rustic, farmhouse, modern, monochromatic or Scandinavian bedrooms, they all have refreshing natural accents.
Fresh christmas decoration ideas really help you welcome christmas with more fun, immediately get bedroom design inspiration this christmas and we hope you enjoy it.
Natural Christmas bedroom
A bedroom with natural accents always brings freshness and calm at Christmas. The easiest way to create a Christmas atmosphere at the same time is to place several Christmas trees there. They can be large or small, you can choose one or several, they will make the room feel cooler. Follow it up with floral arrangements, pinecones, and even fresh or fake greenery. Also add some lighting such as fairy lights or string lights which will lift your mood, while firewood in a basket or bucket is also a great idea for a natural touch to the room.
Cozy textile
Choosing textiles is also important to make your bedroom feel airy and light, and this idea is really budget friendly and can be swapped out at any time. Throw in some holiday-inspired textile motifs such as plaid or leafy motifs, blankets, knitted pillows, crocheted items, and watch your room feel really cozy. If you want to add warmth, complement it with a rug or night lamp that will enliven your Christmas bedroom.
Christmas bedroom decoration
What else can you bring into your Christmas bedroom to make it feel even more festive? Maybe some candles or any kind of lamp to create a calming feeling in any corner. Hang some decorations above the bed, such as Christmas baubles, or make a wreath out of ornaments and fresh greenery. Below we have collected some Christmas bedroom ideas that you can copy at home and have a Merry Christmas!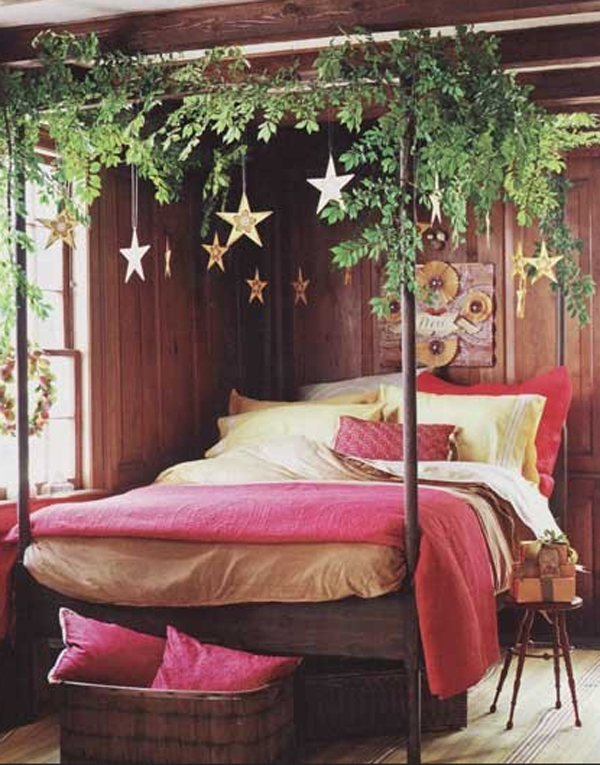 source : pinterest