There are many ways to decorate toddler girl, in addition to girl child's room should look cute and adorable with pastel colors such as pink, blue, or yellow. You could also try to add photo frame to the wall of the room. Although it looks simple but also very easy, and certainly could be travel photos your kids until they grew up later. Frame photos do not have to look ordinary, add some color or painted according to your tastes. However, you should also pay attention to wishes of the children so that they loved. Here is some inspiration toddler room with painted photo frames, there may be your favorite!
Painted Photo Frames
First collection came from Brynn's big girl room that want to make their little daughter's room is bright and cheerful as suit her personality. This looks simple toddler room while maintaining the blue color as the wall paint. But I would be hard to say to not fall in love with painted photo frames and bookshelves on the walls.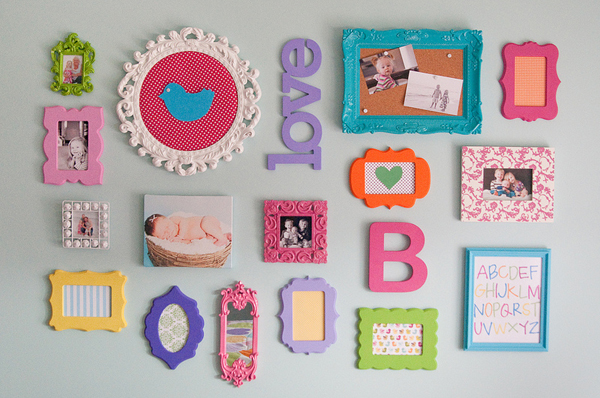 DIY Gallery Wall
This is DIY gallery wall for Ruby toddler room, the collection comes from Cut It Out to frame them into a perfect focal point for the room. I like with this frame, this frame is perfect curvy cute in the room a little girl and because they come not finished, they are completely customizable and budget-friendly.
Lots of Mixtures of Textures
London's big girl room seems to be a beautiful cover for a collection of photo frames us this time. The toddler room has tons of DIY and have a very small budget to do so. The entire project is playing big part in low budget, so the owners do everything themselves. I love with big, bold prints and colors because it has a lot of mixture of textures. If you want to decorate a toddler with photo frames, but also like DIY and budget friendly rooms, then toddler room are what you need.