Living in urban areas will make you need a lot of entertainment in order to keep you from stress and overexertion. Sometimes you are required to work all day, so it is very difficult to get the vacation time you dream of, so night is a time that you should use to create entertainment at home. Rooftop garden design into sole area where family and your friends get together, this area turned out to also be converted into a pleasant outdoor theater at night. Be prepared to move all the fun out of space. The method is quite easy because any open space can be used, making the program to watch movies or TV at night which used to be normal, will feel very special and more enjoyable.
Outdoor home theater is perfect to accompany you who want to hold a small party in the middle of the city. Invite your family and friends to watch the latest or current hits and get an amazing viewing experience with stars. Find the most comfortable place and make the area a cinema without a roof. Also make sure the audience was kept warm by some furniture, pillows or blankets. Also add popcorn, lighting and comfortable textiles, then you are ready to hold your dream cinema.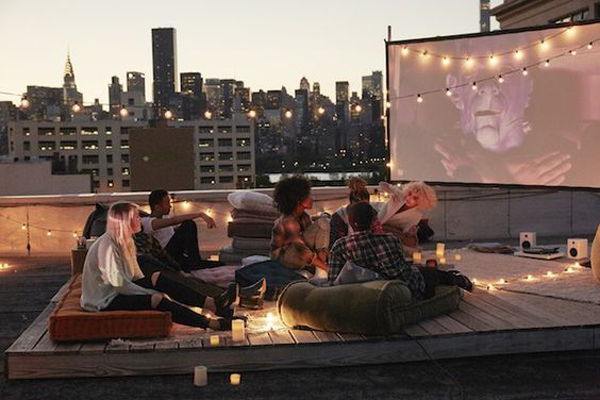 Watching movies on the roof is exciting, but that doesn't mean you don't need to pay attention to things you might not take into account. Cold weather, rain, or it lies at an altitude of making you have to pay attention to the safety factor. Make sure the weather outside is friendly, if necessary you need to make a fence or prepare everything properly. Whatever your consideration, watching movies outdoors will give you an unforgettable experience.
Hopefully this rooftop theater ideas can be your inspiration to get the entertainment that you dream of, and I would love to hear your opinion about your favorite rooftop theater.