This house is full of natural elements as the main attraction. Located on one of the most beautiful islands in the world, Brutalist Tropical Home in Bali has an area of 512 square meters hidden in a small valley located inside the rice fields on the south coast of the island. Completed by architectural studio Patisandhika and designer Dan Mitchell, this house has truly become a stunning tropical paradise.
The open concept is an interesting small part of the interior mat, a double living room stands in the middle of the house, while the structural plates that extend horizontally overshadow the living room which are blocked by twice as high glass.
"One must for us, was to have a double-height living room with full-height glass, allowing lots of natural light and also providing dramatic views to the lush tropical landscape and blue skies," Mitchell told Dezeen.
"The challenge with this was the climate – heat and direct sunshine on glass isn't always the best idea. As we opted against using air con for energy saving reasons, we used the overhanging slabs as a solution to block sun and prevent overheating."
The living room plays an important role and forms the heart of a house with double height. We cannot find a feeling of being free and close to nature in a conventional house with a wall that limits the sense of space. The reason that underlies this house stands alone by minimizing the wall to give a completely different feeling.
Walking into the living room, a multi-level layout to display the records, books, and music system, with access to the kitchen and dining room. The kitchen still uses the same elements without walls, is connected directly to the outside area to provide natural ventilation and create a sense of outdoor tropical life throughout the interior. The house is also equipped with a music studio, two bathrooms and one outdoor shower, and finally three bedrooms connected by a bridge in the living room.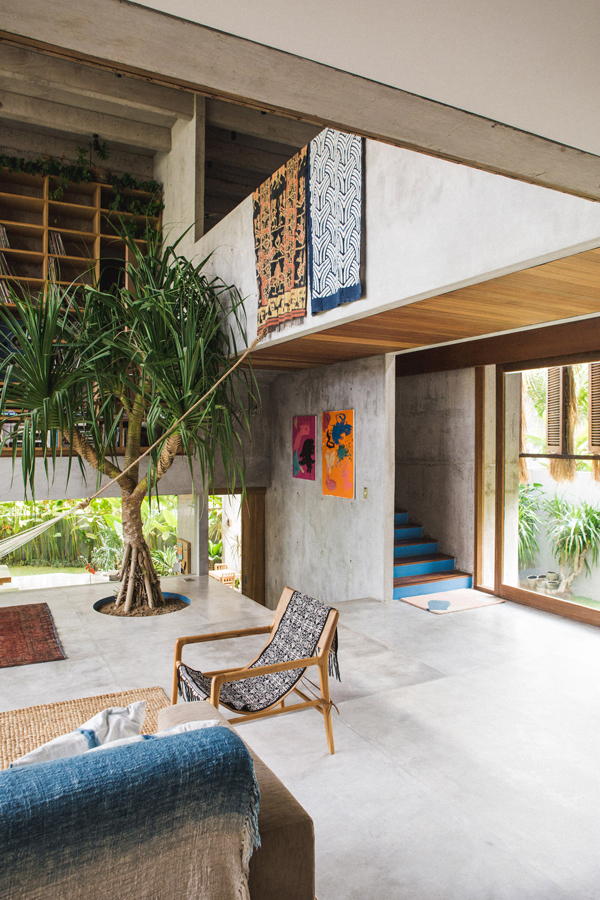 photos by tommaso riva
source: dezeen