The #Hulu is Hugo and Luiz penthouse apartment in Calle Magdalena in the heart of Lavapiés, Madrid. Renovated by cumulolimbo studio, adding bright color accents and natural lighting. Initially this building lacked natural light and was limited by a brick wall construction system and wooden structures. This system is still very traditional which makes the room into a collection of walls and narrow dark rooms.
Based on the traditional structure above, without hiding it, without condemning it and making it a basic concept that must be maintained in this project, the studio wanted to present an impressive wooden frame that also marks the upper floor. The distribution is becoming more contemporary, making the kitchen together with the main room is a living room, dining room, and a spiral staircase that crosses two floors produce a very dynamic visual. Zenithal light, achieved by punching holes in the sloping roof, accompanies the temporality of the living room which is oriented to the north and south.
Now this apartment is illuminated throughout the day, especially marking the arrival of the flat and the heart of the house, a multipurpose space that includes a dining room, home office and meeting place. The use of materials is also very strict, to focus the strength in the new kitchen, chosen a cheerful pink color that contrasts with the industrial-style room, flooring and pine paneling.
Although the bathroom was cramped horizontally, but it expands in the vertical dimension, creating an everyday experience that flood the room with natural light creating additional space upstairs. The distribution of the ground floor is open and quiet, articulated for several functions, namely as a living room and private activity. In this area there are simple curtains that are very high and curved paths that divide the space when needed without building a dividing wall.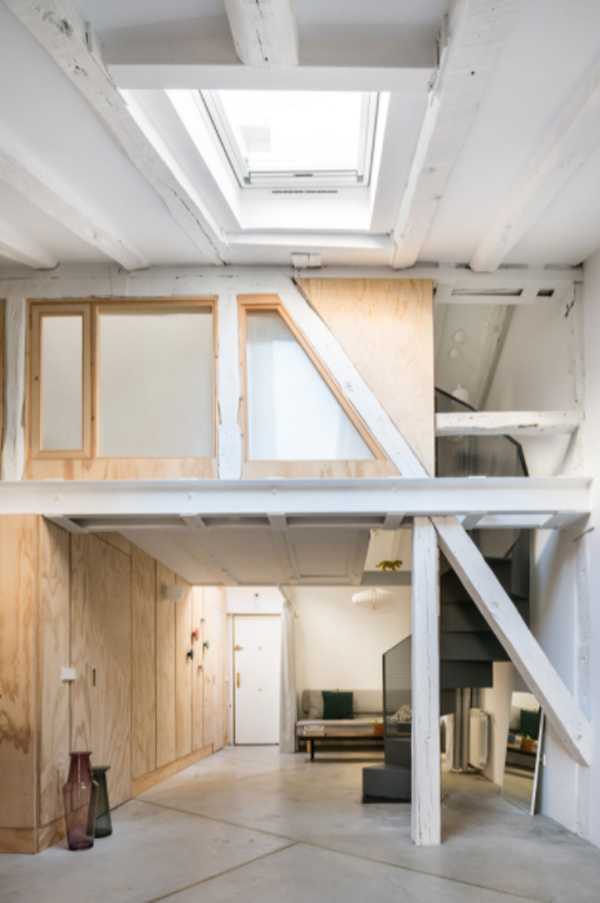 Photos by: Javier de Paz Garcia